Sears To Stay Home
July 31st, 2009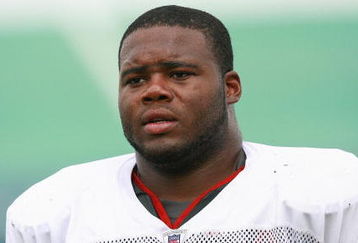 Joe hates to throw out a downer as the weekend approaches, but the worst news of the week is here.
Troubled guard Arron Sears will not report to Bucs training camp with his teammates, so says the Mad Twitterer, aka Rick Stroud of the St. Pete Times.
The news gets even more bizarre as Stroud provides a first glimpse into Sears' deterioration this spring.
… Sears briefly attended the team's off-season workout program and the first voluntary minicamp under coach Raheem Morris. But teammates noticed Sears was more withdrawn than normal and at one point he became non-verbal, writing down answers to questions on paper. Sears abruptly left the Bucs after that.
Joe feels for Sears and the Bucs, who seem to have lost their starting left guard and depth at arguably their strongest position.
Speaking on 1040 AM on Wednesday, Times beat writer Stephen Holder called the Sears situation "one of the more bizarre stories that I've ever been associated with. …It is my understanding Raheem [Morris] went above and beyond for him."
Joe is squeamish just thinking about the details that may come out soon about Sears' troubles. He's so young. Joe is pulling for his healthy return.