Cadillac Speaks
August 1st, 2009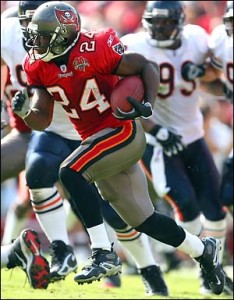 An inspiring bit of video for Bucs fans here; Cadillac Williams talks to the Lakeland Ledger about his readiness for training camp and the grind that got him there.
Joe believes Cadillac, if largely healthy, would be a great luxury on the roster and could give the Bucs one of the strongest backfields in football.
And yes, Cadillac would be a handsomely paid third or fourth option in the backfield. Off the top of Joe's head, he's due more than $2 million this season.
Joe hopes the Bucs resist the financial urge to trade Cadillac if he has a great preseason. Surely there would be some takers, although it's doubtful the Bucs could get much in return.
Given the Bucs' room under the salary cap in 2009, dumping a seemingly healthy Cadillac for a fifth round pick would be a good indication the Bucs are hurting for cash.