Bucs At Jags First Quarter Thoughts
August 22nd, 2009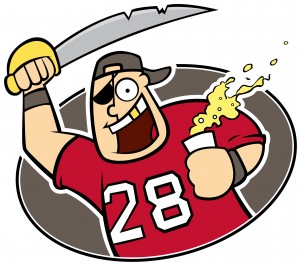 Before kickoff: Raheem the Dream wearing parachute pants. Interesting. Maybe Joe's hockey-crazed sister Amanda will have a comment of Raheem the Dream's fashion sense.
14:45 Sabby got totally torched. Bucs pass defense, like last week, seems to be good covering the underneath. But over the top is another story.
14:30 No cutback for Derrick Ward.
13:55 Byron Leftwich had Michael Clayton open but he had to rush to avoid getting lit up.
12:45 Nice catch by Clayton on a bad throw.
12:36 Again, Leftwich misses Clayton. No excuses this time.
11:54 King of Turds falls down. Not sure if turf is still wet? Rained quite a bit a couple of hours before kickoff. Haven't seen too many players slipping though.
11:25 Hovan wrestles down Gerrard for a sack. No wonder he got irritated when Joe asked him last week if he could play for Jim Bates.
10:40 Talib hails a cab, eeerr, nice tackle.
10:13 Jermaine Phillips can still tackle, but can he play safety for Raheem the Dream?
9:42 Nice pitch and catch by Leftwich and Clayton.
8:29 Ward seems to be able to read this zone blocking. Bucs are looking much crisper offensively to start the game than last week.
6:39 Clayton seems to have a legitimate beef for interference on that dropped pass.
6:35 Mike Nugent with a 46-yard field goal and Matt Bryant is watching (somewhere) in street clothes. Joe hopes he's renting.
4:32 On a three-yard scramble by Gerrard, Gaines Adams just got manhandled constantly. If he was able to shed blocks, he would have had a sack. Adams got no penetration at all.
4:06 Nice play by Barrett Ruud to break up a pass. It's not October yet, is it?
4:02 Old Man Barber with the play to break up a pass. Jags have yet to convert a third down.
3:49: Just a thought: Is there any other wide receiver for Leftwich to throw to besides Clayton?
3:33: Ward will be a borderline Pro Bowl player this season. There. Joe said it.
2:30: Is this the same Bucs offense as last week? No!
1:17: That was a beautiful pass Leftwich threaded to Clark but it was off his hands. Checked down to his third option on that pass. Folks, Luke McCown is NOT the answer as a starter. He would have took off running on that play, and been sacked.
0:51 Terrible pass defense all over the field on that 23-yard completion by Gerrard.