Clifton Smith Still Working On His Hands
July 7th, 2009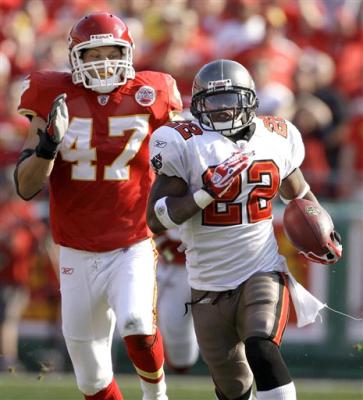 Bucs beat scribe Anwar Richardson of The Tampa Tribune writes a brief story today about Pro Bowl returner Clifton Smith's fumbling issues early in his rookie season last year and his potential in the Bucs' offense for 2009.
Considering Smith's Pro Bowl finish, it's easy to forget his consistent fumbling after he took over for the horror show that was Dexter Jackson.
"What we did with Clifton this offseason, we put him at the running back spot some and I think that he can contribute at that spot," offensive coordinator Jeff Jagodzinski said. "I don't know how many snaps per game, but I do know this: He can run an option route on an outside linebacker, and that's a great matchup for us.
"Even if he starts in the backfield and we take him out of the backfield by moving him out of there and match him up on a linebacker, he is quick, quick." 
Chucky deserves major credit for showing patience with Smith.
After Smith fumbled in his first three games, Chucky could have easily — and intelligently — given up on the kid and turned over punt and kick return duties to emergency return men Ike Hilliard and Michael Clayton (who surely wasn't tired from catching touchdowns).
Nice job, Chucky. Clifton Smith thanks you.