Clayton Hanging With Guys Who Can Catch
July 9th, 2009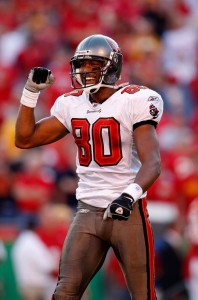 Joe salutes Michael Clayton, the world's highest paid blocking wide receiver, now up in Minnesota trying to improve his game.
Arizona stud receiver Larry Fitzgerald invited some of his NFL colleagues and Jerry Rice to join him at the University of Minnesota for intensive training. And Clayton is there, says the Star-Tribune.
That's a long and impressive distance to go for a Louisiana guy who's spent years in Tampa.
Joe hopes the peer pressure works some magic on Clayton's hands. And, at the risk of sounding gay, Joe hopes Clayton hugs, shadows and drools over Jerry Rice if that's what it takes for some of Rice's greatness to rub off. 
If Clayton becomes a reliable receiver, the Bucs' potential on offense could be limitless in 2009.