Galloway Clone Keeps Blazing
May 30th, 2009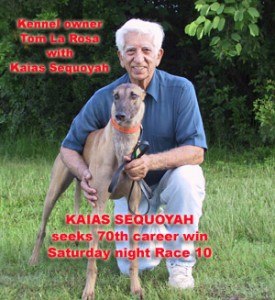 If you like old man wide receiver Joey Galloway, you'll love Kaias Sequoyah, a tireless greyhound sprinter at Derby Lane who goes for his 70th career victory tonight in Race 10 at the renowned St. Petersburg dog track.
Born in 2004, Sequoyah is about 35 years old in human years, yet the veteran racer is still winning among top competition. Most greyhounds his age are gorging on Milk Bones and relaxing on a couch. Needless to say, notching 70 victories is a major accomplishment.
Joe is pulling for him.
So now you now where Joe will watch the Orlando Magic game tonight. Derby Lane has it all, from great dining and racing, to the Bay area's best poker action.