Halftime Thoughts
November 23rd, 2008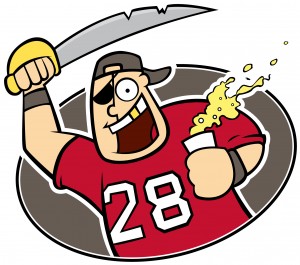 BUCS 21, LIONS 17
* What a beautiful run by Warrick Dunn! Now that's how you cure your red zone ills. As if on cue, Dunn helps the NFL's second worst red zone offense. Beautiful run. Joe can't write enough about that.
* Outstanding job by Camella's husband to buy some time which enabled not only Garcia to escape and get a pass away but it gave Ike Hilliard a chance to break free and wide open. Fine job by the old Gator, Mr. Reliable.
* That's the way to make a team pay for a turnover and that's the kind of play Joe wants to see more often: throw the ball downfield, even if King of Turds is on the field.
* This is how bad the Lions suck: They have a 17-0 lead at home and before the two minute warning they are losing. Nice job — excellent job — by the Bucs to take the lead but just how horrible is an NFL team to be leading by three scores in the first quarter and then losing before the two minute warning?
* Joe loves Gaines Adams and the defensive end has always taken far outside routes to the quarterback. Even though he has made some great plays this half, his outside rushes are so outside it appears he's taking a detour through Pontiac. And he's gotten burned and missed a couple of sacks by doing that.
* Terrible choice of plays to end the half. Over one minute left and the Bucs take the air out of the ball. Why not at least try to get in field goal range? Strange.