Third Quarter Thoughts
November 23rd, 2008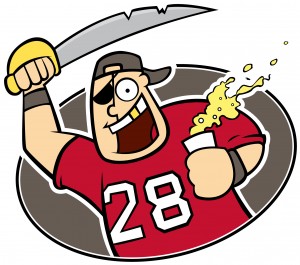 * Clifton Smith! Great, great runback. Anyone want to give Joe odds Bucs fans will never see Dexter Jackson run back a punt (or kickoff) again in a Bucs uniform?
* That punt return was set up by a fantastic open-field tackle by Gaines Adams. The second-year defensive end is pretty weak at open field tackles unless he's chasing a quarterback. But on the third down play just prior to Smith's return, Adams dropped back into pass coverage. Aveion Cason caught a Dante Culpepper pass wide open along the right sideline and Adams flies in and takes Cason down to save a first down reception. Not too many defense ends will make plays like that.
* Also, Aqib Talib made a world class block on Detroit's Adam Jennings on the return. Had Talib not waited for the perfect time to lay the block, he would have been whistled for a clip. Jennings was "this close" to making the tackle. Props to Talib for using a heads-up play that resulted in seven points and maybe the game-winning score.
* Good Lord, how awful are the Lions? How Rod Marinelli has kept his job this long Joe cannot figure out.
* Oh, yeah. The beer tastes good to Joe.
* Yeah, the kittens got jobbed by no pass interference called on Sabby Piscitelli on Calvin Johnson, but the Bucs got jobbed on no face mask called on Chuck Darby. Call it even.
* Ronde Barber returns an interception for a score after a Bucs turnover. What an absolutely miserable team the Lions are! And people wonder why Ford is in trouble?
* Bucs close the quarter with what looks to be another scoring drive. Man, Joe's starting to feel sorry for Lions fans.