Freeman, Not Schiano, Will Walk Plank
September 18th, 2013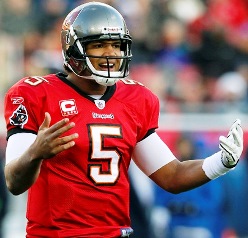 When it comes to discussing the quarterback position of the Bucs, the discussion is split in two. There are the Freemanites who believe nothing is ever the fault of Bucs franchise quarterback Josh Freeman.
Then there is the notorious Mike Glennon Mob, whose members want Freeman gone right now and for Bucs commander Greg Schiano to insert their savior as the starting signal-caller.
(No, Joe can only remember hearing/reading one or two examples of someone with the stones to suggest Schiano should turn to Dan Orlovsky, who frankly should only see the light of day in a dire emergency. These people are nocturnal creatures. You know they are out there somewhere, but you rarely see or hear them.)
Though it is unclear if olive oil-lapping, popcorn-munching, coffee-slurping, fried-chicken-eating, oatmeal-loving, circle-jerking, beer-chugging, cricket-watching, scone-loathing, college football-naïve, baseball box score-reading Peter King of theMMQB.com and SI.com is a card-carrying member of the Mike Glennon Mob, he surely is not a Freemanite. King took a side Tuesday while appearing with the one and only Chris "Mad Dog" Russo on "Mad Dog Unleashed," heard exclusively on SiriusXM Radio.
Chris "Mad Dog" Russo: Tampa is 0-2. Schiano — a lot of grumbling going on down there. They are going to New England. Freeman hasn't been great. What's the status of the Bucs right now? What can you tell me?

Peter King: The guy who is going to walk the plank at the end of the year is Josh Freeman. I would doubt sincerely if Greg Schiano is going to join him. They have invested too much in Schiano. There is not enough evidence, yet, to me, that his players aren't going to play for him. Yeah, are there brush fires out there with some guys saying they don't like Schiano? Yes. But in my opinion when the quarterback plays well, when they can get a quarterback who can play well, to me, I think they are going to be OK. The one thing about Schiano is — again, remember a couple of things: When Bill Belichick was in Cleveland — and I think both Belichick and Schiano have a lot in common; Belichick has a very, very, very high regard for Schiano — but when Bill Belichick was in Cleveland everybody hated him. Everybody really hated him whether it was the media or some guys on the team. It is very, very hard to give a guy two years to turn things around on any program if you don't have a quarterback. Belichick had all that time in Cleveland. And after Kosar he didn't have a quarterback either. I would not put Schiano in the endangered species category after he coached 18 NFL games.
Here's the thing about both Freeman and Schiano. First is, Freeman is not playing as badly as the Mike Glennon Mob would have you believe. As Joe pointed out yesterday, just don't look at his stats. Against the Saints, Freeman got absolutely no help from his receivers due to dropped passes and not getting their feet down in bounds.
But Schiano isn't doing a bad job, either. Sure, it could be much better. But let's think about this.
Schiano came in to turn around a team that had an absolute garbage defense riddled with malcontents and scumbags. He turned the worst rush defense into the best. This year, who the hell would have guessed that the Bucs would be leading the NFC in sacks? The Bucs were terrible at rushing the passer last year and Schiano appears to have fixed that, like he fixed the rush defense the previous season.
The Bucs are currently 18th in pass defense (better than the Giants, Dolphins, Cardinals, Vikings, Crows, Broncos, Dixie Chicks and Packers) up from near-NFL historic worst last season.
In Joe's eyes, it's clear Schiano has made significant headway into two of the worst elements of the team; complete turnarounds in fact, and has done a credible job in a third area.
Joe will even say that Schiano in the past 18 games has done more than any Bucs head coach since Chucky took the Bucs to the promised land. After winning the Super Bowl, did Chucky do a complete makeover of a unit to make it among the best in the NFL? Did Raheem Morris?
Unless the Bucs implode the rest of the way, Joe thinks Schiano will be back in 2014.
Freeman? That's a little more complex.