Report: Freeman To Request Trade
September 15th, 2013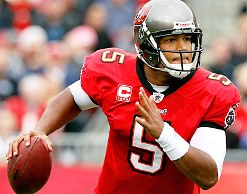 Boy, this is going to get some run on the NFL morning pregame shows, especially on the Tiffany Network.
Per good guy Jason La Canfora (his wife was run over by a hit-and-run driver yesterday and he will not appear on TV today as a result) of CBS Sports, who is well plugged in with NFL sources, posted a story this morning that strongly suggests not only will Bucs franchise quarterback Josh Freeman request a trade before the trade deadline next month, but that Schiano's job status is "perilous" and that he is trying to Pearl Harbor Bucs rock star general manager Mark Dominik.
Furthermore, several executives on other clubs believe Schiano's refusal to ever really endorse Freeman is an attempt to undermine general manager Mark Dominik, who drafted Freeman in the first round prior to Schiano's arrival from Rutgers and who has also worked diligently to add talent to that roster in recent years. Many around the league believe Schiano would like to have full roster control as well, viewing Freeman — who threw for over 4,000 yards and nearly 30 touchdowns last year — as a pawn in a would-be power struggle.

Tampa's drafting of quarterback Mike Glennon in the third round this spring — Glennon is clearly seen as "Schiano's guy" within the organization — is just another indication that Freeman's future is elsewhere. In the final year of his rookie deal, with his value being undermined by the head coach, and with the Bucs making no attempts to extend him, a trade request by Freeman is one of few options available to the youngster.

Freeman, it should be noted, was not the problem in Tampa's woeful Week 1 loss at the Jets. He actually rallied the team to take the lead in the fourth quarter, only for Schiano's defense to once again display its issues with discipline as Lavonte David's personal foul allowed the Jets to kick a game-winning field goal with time expiring. Four times last year Freeman rallied the Bucs late, only for that defense to hand the game away. The timing of Schiano's remarks about the quarterback this week were seen as curious by several rival team officials. Officials perceived the remarks as a diversionary tactic to get the local media writing about the quarterback instead of about another collapse by Schiano's defense. A defense reinforced this past offseason with the arrival of Pro Bowl corner Darrelle Revis and Pro Bowl safety Dashon Goldson.
Joe has to be honest. This has so many angles — without one quote, mind you — that Joe is hesitant to swallow this whole.
Schiano's job in on thin ice? Really? That's news to Joe after Week 1. Maybe if he goes 2-10, Joe could see that. But, geez, it's Week Two of the season, people.
Schiano is trying to cut Dominik's legs out from under him? That's a new one too. From everything Joe has heard, both Dominik and Schiano have a very good working relationship.
As for Freeman requesting a trade, the three teams that La Canfora floated as trade targets are Minnesota, Tennessee and Oakland.
First, Vikings quarterback Christian Ponder has produced better results than Freeman. Has anyone seen Freeman take a snap in a playoff game yet? Second, why would Tennessee and Oakland, especially Oakland, waste draft picks on a guy who is going to be a free agent and they couldn't necessarily sign him come next spring?
Further, if you are Freeman, the season is hardly over yet. Why bail now? Besides, as long as the Bucs don't franchise him, he could pick his landing spot next season and have teams bid for his services. Why request a trade where he might be sent to a team/location he loathes when he could choose one in eight months?
There's just way too much here for Joe to believe that everything is concrete that La Canfora wrote, and Joe likes the guy a lot.