"Goat Of The Week"
September 9th, 2013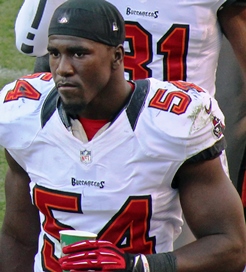 No one loves Bucs linebacker Lavonte David more than Joe. Sift through Joe's archives and you will notice Joe pimped Bucs rock star general manager Mark Dominik to draft David out of Nebraska months before the draft — well before anyone else — where David was a terror on the football field.
But yesterday's totally braindead play by David to go after Jets quarterback Geno Smith, who was headed out of bounds to kill the clock, and give the referees an opportunity to throw a flag and give the Jets a chance to win the game, will be remembered for years, and not in a good way.
It was so mind-numbing awful of a play that Olive oil-lapping, popcorn-munching, coffee-slurping, fried-chicken-eating, oatmeal-loving, circle-jerking, beer-chugging, cricket-watching, scone-loathing, college football-naïve, baseball box score-reading Peter King, in his must-read "Monday Morning Quarterback" column, crowned David with his weekly "Goat of the Week" award.
Lavonte David, LB, Tampa Bay. His hit on Geno Smith in the final seconds of the crushing loss at the Jets hands him the goat horns, though it wasn't the kind of egregious sideline smash that you think was a cheap shot. Whether you agree with the call or not, whether you felt it was ticky-tack—and it was close—it sticks. David's hit on Smith with seven seconds left gave the Jets the chance to kick the game-winning field goal, a 48-yarder by Nick Folk. Jets 18, Bucs 17.
And if you think Joe and/or King is harsh on David, one of the most underrated players in the NFL, you better stay away from the New York tabloids, which are crucifying David for handing the Jets a win.
Sorry, Joe doesn't live in a world with only seashells and balloons. He has to call it as he sees it, bad or good. And this play by David, Joe just cannot comprehend how awful it was. And to suggest this didn't cost the Bucs a win, then you are either in serious denial and need mental health counseling, or Joe wants to sample the narcotics you are using.
The sad thing about this play; it was acted out before the media capital of the world. It's going to be a long time before that stain is washed away, no matter how good of a player David is or will be (think Joe Pisarcik).