It's Survival September For Dirk Koetter
April 19th, 2018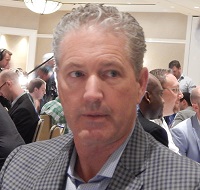 Joe is in a minor state of the shock with the Buccaneers' 2018 schedule.
They've got three division winners, including the Super Bowl champions, in the first three games of the season.
That stretch could change the entire direction of the franchise in a good way by the end of September, which closes with a game at Chicago. Or, those first three games could signal the almost annual kick in the groin for Bucs fans.
With a Week 5 bye looming, Dirk Koetter better not find himself with a 1-3 record. That's just the ice cold reality for a head coach whose teams have been swimming upstream in October of the past two years.
The Bucs have to at least split home games against the Eagles (Sept. 16) and Steelers (Sept. 24), and split against the Bears and Saints.
There are no excuses, not with a team as talented as Tampa Bay.
Joe's not rooting against Koetter. On the contrary, Joe is praying the Bucs come out firing against a beatable Saints team, just like they beat the snot out of Atlanta on the road to start the 2016 season. Joe yearns and aches for a good season, but that's only realistic if the Bucs don't dig themselves another 3-5 or 2-6 hole again.
It's simply not too much to ask — not matter who is on the schedule.
You can see the full schedule here.