Something Doesn't Add Up On The O-Line
February 12th, 2018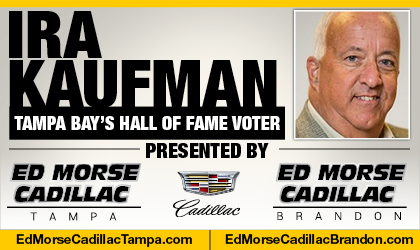 Ira Kaufman is the most revered sports personality and writer in town. He has hung his hat at JoeBucsFan.com world headquarters since July 2016. Tampa Bay's only Pro Football Hall of Fame voter, Ira busts out columns here every Monday, Wednesday and Friday, and his award winning podcasts fire Tuesdays and Thursdays. You can also hear Ira on SiriusXM Mad Dog Radio Wednesdays during football season, and see him now on Mondays and Fridays at 10:30 p.m. on Spectrum Sports 360. Ira also is part of the FOX-13 Tailgate Sunday.
BY IRA KAUFMAN
Buc fans are waiting for the other cleat to drop.
The slogan "Weapons For Winston" has been replaced by a new mantra in 2018: "Toughening the Trenches."
As a result, the Bucs will have a new defensive line coach this fall.
Jay Hayes paid the price for a woeful pass rush, so he's out after two years in Tampa.
The timing seems a bit strange because Tampa Bay's 5-11 season ended six weeks ago and most assistant coaching jobs have been filled by this point.
If I'm George Warhop, I can't feel too safe at this point.
Fantasy Football
Warhop and Dirk Koetter go back a long way. When Koetter served as Boston College's offensive coordinator in 1994 and 1995, Warhop was the offensive line coach of the Eagles.
Warhop was hired by new head coach Lovie Smith in 2014 and Tampa Bay's offense was a mess after the Jeff Tedford fiasco. Let's give Warhop a pass for that disaster.
When Koetter came aboard the following season to oversee Smith's attack, the Bucs showcased the best offense in franchise history — with rookie quarterback Jameis Winston taking every snap.
Those Bucs featured a beautifully balanced unit, led by a ground game that averaged 4.8 yards per carry. Doug Martin finished No. 2 in rushing and Winston was sacked only 27 times, thriving behind a line that started two rookies.
That was then, this is now.
For the past two years, this ground game has been grounded. Martin lost his burst, but the harsh truth is the blocking up front hasn't been nearly good enough.
Buc running backs often have nowhere to run, nowhere to hide. Give Koetter credit, he's been patient with the process. He can't stand the idea of being one-dimensional, but that patience has been tested.
It was supposed to be different in 2017.
J.R. Sweezy was healthy, ready to add a nasty streak at right guard while Ali Marpet shifted to center. O.J. Howard was supposed to add another stout blocker to the mix at tight end.
That turned out to be fantasy football.
Tampa Bay quarterbacks were sacked 40 times last year and the running game finished 27th. If you take out the 2015 season, Warhop's ground attack has averaged 3.7 yards per carry since his arrival.
The day after the Bucs beat Miami in November, Koetter was asked about Martin's ineffectiveness (19 carries for 38 yards).
"In my opinion, he is not the reason we're not moving the ball on offense," Koetter said. "If you look at the tape, Doug's making a little bit out of not too much, more often than not. We did not do a great job of run blocking, but that's an O-line thing, that's a tight end thing, that's a lead blocker issue. The running back is going to take the hit."
Martin won't be around this fall. Warhop still has his job, for now, and there figures to be changes along the offensive line.
Fault Lines
Let's not hear any nonsense about injuries wrecking the cohesion up front. Through the first 11 games, Tampa Bay's starting offensive line remained intact.
That's a rarity in pro football.
When injuries started to mount, what happened? The Bucs ran the ball with more authority.
When the season ended, Koetter pointed to the fault lines. "Score more points — that is one issue," Koetter said. "The No. 2 biggest issue is we can't get pressure with a four-man rush. I'm not telling anybody any big secrets here. Those were our two biggest things that need to be addressed."
Hayes is toast. Warhop remains.
Guess how many runs of 20 yards or more the Bucs reeled off last fall in 389 rushing attempts?
Five.
How about runs of at least 40 yards?
Zero.
Do the math. Something doesn't add up.