Scratch Marvin Lewis Off The Help List
January 2nd, 2018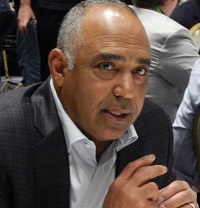 Considering Dirk Koetter himself gave defensive coordinator Mike Smith a questionable endorsement yesterday, it was fair to go to bed wondering what change could come to the Tampa Bay defense.
One name Joe referenced a couple of weeks ago was Marvin Lewis, a close friend of Koetter for decades.
Lewis has a stunning defensive resumé and was rumored to be wanting out of Cincinnati for a front office job or a consultant gig, or just a new head coaching gig.
Lewis, if he were available, would be a natural for a one-year advisor gig with the Bucs. Mike Smith used to work for him, he's got a track record of finding defensive line talent, and could be a trusted, savvy and fresh pair of eyes for Koetter.
But it's not happening.
Lewis inked a two-year extension today to keep coaching the Bengals, where he has a winning record since taking over in 2003.
So what's next for the Bucs' coaching staff? Joe is rather confident the first change will come among the defensive backs coaches.