Answers/Questions Lie In NFL NextGen Stat
January 2nd, 2018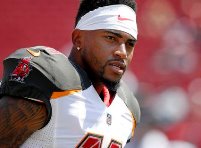 Those fancy computer chips the NFL inserts in footballs and players' uniforms delivered loads of interesting data this season.
Frankly, Joe loves it. Why? Because the stats are not subject to human ego, incompetence and/or stupidity. It's just thoughtless and factual numbers.
One stat kept by the NFL computers is "cushion" for tight ends and wide receivers, defined as "the distance (in yards) measured between a WR/TE and the defender they're lined up against at the time of snap on all targets."
A simple stat.
But what's stunning and unique is Tampa Bay has two receivers in the top 10, meaning two players who get the most cushion in the league.
DeSean Jackson tied for the fifth-largest average cushion at 7.2 yards per snap. Adam Humphries was tied for 10th at 6.9 yards.
No other team had three pass catchers in the top 10. The three other teams had two pass catchers in the top 20 for cushion are the Titans, Chiefs and Rams. Those are all playoff teams.
Joe's not sure what critical insight could come from this data, but it has to be something. It's not a coincidence. Perhaps the Bucs didn't use DeSean Jackson as much as they should have on first down?
Jackson got a tiny bit more cushion with Redskins last year, and Humphries led the Bucs, though he got less cushion in 2016. For those wondering, Mike Evans saw tighter coverage (less cushion) this season.