"That's Why I Was So Disturbed That Someone Would Bring Up Something To Try To Distract Us"
December 19th, 2017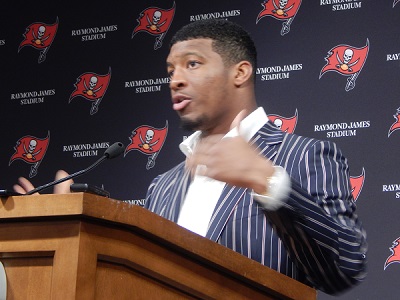 America's Quarterback, Jameis Winston, delivered quite a passionate rant defending, praising and feeling for Dirk Koetter after last night's loss to the Falcons.
Man, it was something.
Jameis was asked by JoeBucsFan.com columnist Ira Kaufman how the Bucs playing hard to the final whistle last night reflects how the team feels about its head coach.
"We love our head coach. Our head coach sets our morals," Jameis said of Koetter. "And his main thing is compete. And you can see it through every one of those guys in there. You know, every time he steps up in a meeting and he posts a slide show of what is our objective, 'passion, you know, competitiveness, mental toughness.' He's instilled that in us. Some of the guys have that in themselves. But we got a coach, man. And when you're trying to lead men.  You know, these are men who have families; some don't. But when you got a guy who comes back to work consistent like him, you know, I love my coach. And that's why I was so disturbed that someone would bring something up to try to distract us. You know, and that just adds fuel to our fire in a way. Because we got so much respect for our coaches, not just Coach Koetter, for our coaches on this team because they work their ass off. And I just hate for them that the results of our play or the season, you know, is on them when, quite frankly, it's on the players. It's on us."
Not much more for Joe to add. Powerful stuff there from Jameis. And it's very interesting that he appeared to go back to the eight-day-old report from NFL Network reporter Ian Rapoport, who firmly claimed there's a rift between Jameis and Koetter.