Poor Lavonte David
December 10th, 2017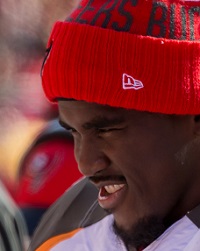 Lavonte David tied a Buccaneers record today, and it's not for most losses endured by a fantastic starting linebacker.
David recovered his fifth fumble of the season by a Bucs opponent. That ties the record, which had stood for 38 years. Of course, what makes it more remarkable is that David forced the fumble himself, a second after Brent Grimes had a shameful loaf on the first-half play.
It was David's fifth forced fumble of the season, second most in the NFL.
David finished with a whopping 13 solo tackles, his second double-digit tackle game of the season. He's been money since returning from his nasty Week 2 ankle sprain.
Gerald McCoy, David, it's darn shame the Bucs have wasted so many prime years of these guys.
McCoy turns 30 before next season and David turns 28. At this rate, their careers will be trivia answers out of a lost decade of Bucs football.