Wasting Weapons
December 10th, 2017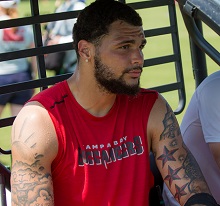 Four catches for Mike Evans over the past two games is nearly as inexcusable as Doug Martin getting the start today.
Spin it however you wish, but DeSean Jackson and Evans are not having good seasons. It wasn't supposed to be this way.
Throw in Cameron Brate going invisible today (one ball thrown to him), as he's done for other chunks of this season, and there's a real problem.
Simply stated, the Bucs appear to have too many weapons for Dirk Koetter's offense/playcalling. He just can't figure it out. It's 13 games in. Yeah, there's only one football, but it's not like the Bucs are putting up a lot of points. Yardage is nice, but the game is about scoring touchdowns and maximizing talent.
It's great to see Chris Godwin start to break out. Hopefully that continues, but Joe wants to see points and wins, like any other fan.
Dirk Koetter isn't going to have much to sell about himself if he can't figure out how to craft a humming offense for a full game. Every weapon on the Bucs is healthy, every last one, and they just lost to two marginal football teams.