Last Place Locked Up
December 10th, 2017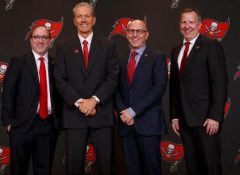 Six out of nine seasons since Chucky was fired, the Buccaneers have owned the NFC South basement.
They made No. 6 official this afternoon as the clock expired on the heinous loss to the Lions at the Den of Depression.
Joe doesn't believe in coincidences, and that much futility isn't bad luck. It's bad drafting and free agent signings. It's bad coaching and bad effort. It's bad hiring and bad attitudes. It's stupid decisions and stubborn decision-makers.
It's also second-rate leadership and accountability.
Raheem Morris had a great run, going 16-9 through a 25-game stretch, but his team fell apart in historic fashion. The Fighting Schiano's were 6-4 before closing his era 5-17. Lovie Smith was perhaps the worst head coach in team history. Dirk Koetter's team has forgotten how to win — for far too long.
Joe would type the combined records of former rockstar general manager Mark Dominik and current GM Jason Licht, but Joe doesn't want anyone to hurt their pets.
All those coaches and GMs and coaches eventually will move on to new jobs, many in new cities. But it's the Bucs fans who are left in pain, sticking with the team and living with the agony.
Joe feels for all of you out there.