Jason Licht Talks Jameis
December 26th, 2017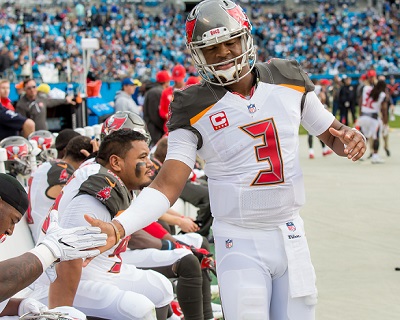 Tampa Bay general manager Jason Licht has been quiet for a while, not talking publicly except for his weekly spots on the Buccaneers Radio Network.
On Sunday before the Panthers-Bucs game, Licht raved about his prized draft pick Jameis Winston, America's Quarterback.
Licht's assessment coming out of the Atlanta game on Monday Night Football was a lot like what Dirk Koetter said, that a healthy Jameis is a better Jameis.
Licht said Jameis is "as close as he's been to being 100 percent" healthy. And the GM said it appeared to translate to the field as he slung the rock against the Falcons.
"Jameis trusted his arm more than I've ever seen him trust his arm," said Licht, adding Jameis is throwing the ball "more effortlessly" now.
And Jameis went out and turned Licht into Nostradamus, recording a beastly throwing day against an excellent Panthers defense on a cool Christmas Eve in Charlotte.
So now the question is whether Team Glazer will hang Dirk Koetter after a season in which his young franchise quarterback was injured but looked strong upon his return?