"We're Just Seeing Jameis A Little Healthier Than He's Been In Quite Some Time"
December 23rd, 2017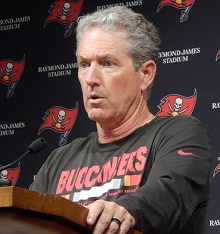 The head coach and mentor of America's Quarterback, Jameis Winston, dove a little deeper yesterday into what made Jameis' performance on Monday Night Football special. 
Dirk Koetter took questions from fans on the Buccaneers Radio Network and was asked about Jameis' improved accuracy.
Koetter started with the basics: health. And then he quickly moved into the other elements that led Jameis to a 77 percent completion rate and three touchdowns against the Falcons.
"We're just seeing Jameis a little healthier than he's been in quite some time," Koetter said. "I thought Jameis just really threw the ball; he was very accurate. I thought he really threw the right type of passes for the play. He throw a couple balls over the top. He threw a couple balls with great touch. He threw a couple of balls that he had to really fire in there. He was on time, part of that starts with protection.

"He was very accurate. He didn't try to overthrow. He didn't try to overstride. You know, Jameis has just had a season in which he's had to battle some injuries. I think Monday night was just an example of what Jameis can play like when he's healthy."
There's that health thing again. Would Team Glazer really launch its head coach after one season with a banged up, 23-year-old Jameis?
This is one reason why Joe is very focused on these final two games. Jameis is healthy now. Let's see what the offensive looks like with a better running back, Peyton Barber. And there are still plenty of weapons, even without O.J. Howard and DeSean Jackson.
Koetter also added that Jameis really had a great night in setting up receivers to make plays.
Do it again tomorrow, Jameis.