Cameron Brate: Locker Room Was "A Little Tense"
December 31st, 2017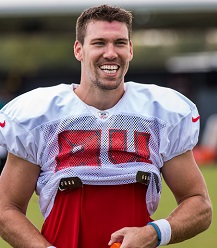 Watch the Jameis Winston video below on the home page and you'll see The Franchise admit that the head coach was showing some cracks after last week's game.
Cameron Brate said today it was more than just the head coach.
The rumors of the end of the Dirk Koetter era had a widespread effect on the football team.
"It's hard to block out all the stuff, you know, social media, the news cycle, ESPN, it's 24/7. We were hearing some of those whispers," Brate said. "It was a little tense, I'd say, through the locker room. You know, guys were nervous about what was going to happen. Because if there's a coaching change, there's so much change throughout the building. Just to have that peace of mind going into that last game, I think that definitely helped our players."
As as candid Koetter said over the last couple of weeks, coaches and players are human. And he added on SiriusXM NFL Radio, "speculation is all fun and games until they're talking about you."
Cerebral Brate said the rough season really wasn't a bad-coaching problem.
"It kind of seemed just like the players were kind of letting Coach down through the year," Brate said. "One bonehead play here, one bonehead play there. You know, it was definitely on the players, a lot of those losses."