Chris Baker Needs An Attitude Change
July 12th, 2017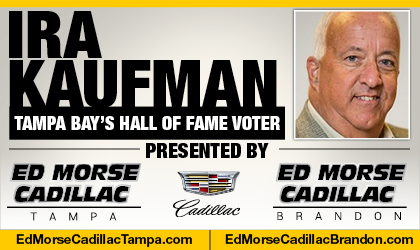 Ira Kaufman, the most beloved and esteemed Buccaneers columnist in town, has hung his hat at JoeBucsFan.com world headquarters since July 2016. Tampa Bay's only Pro Football Hall of Fame voter, Ira busts out his columns here every Monday, Wednesday and Friday, and his award winning podcasts fire Tuesdays and Thursdays.
BY IRA KAUFMAN
It's a bad look for "Swaggy."
As news about the latest NBA mega-contract hit the wires, Chris "Swaggy" Baker couldn't help himself. Tampa Bay's free-agent defensive tackle took to Twitter and weighed in on the widening disparity between NFL and NBA salaries.
"Can we just have another lockout. I want some NBA MONEY."
In one sense, you can understand Baker's frustration.
He signed a three-year, $15.75 million deal with the Bucs in March that included $9 million in guaranteed money. A few months later, he hears that J.J. Redick is being paid $23 million by the 76ers this upcoming NBA season.
Redick, a former Magic draft pick, is known for his accurate 3-point shot. He doesn't rebound, he doesn't pass much and he certainly has never been known for his defense. But if you leave him open, Redick can hurt you from long distance. For that one skill, his paycheck will dwarf Baker's salary this fall.
But if Baker has a problem with the inequity of NFL contracts, he should be on the phone with DeMaurice Smith, executive director of the Players Association. It is Smith's job to look out for the welfare of his constituents, but Smith doesn't have much credibility when it comes to complaints from Buc players.
Who can forget Smith's bluster when he touched down in Tampa in 2013 and said the union would demand a thorough investigation into the Josh Freeman saga? Smith said the NFLPA was eager to determine whether the Bucs leaked confidential information about Freeman's involvement in the league's substance-abuse program.
At the time, I was adamant that we would never hear another word about the findings of an investigation because the leak didn't come from One Buc Place.
Sure enough, almost four years have passed and Mr. Smith hasn't uttered one additional word about who did Freeman wrong.
Baker seems to be a good man. Last month, he returned to his roots in Connecticut for a football camp, giving back to his community. His foundation promotes literacy among the young.
Money-Focused
But when asked why he signed with Bucs as a free agent, Baker mentioned the absence of state taxes before he mentioned the talent on the roster.
And at the owners meetings in Phoenix, shortly after Baker left the Redskins to wear pewter, I ran into a heavy hitter in the Washington organization.
"What are the Bucs getting in Chris Baker?" I asked.
"Good player … doesn't like to practice," was the rapid reply.
To be fair, that wouldn't be the first time a member of the Redskins organization took a shot at a departing player … and it won't be the last.
Nobody ever praised owner Dan Snyder for running a first-class operation, but Baker didn't need to bitch about his paycheck before registering his first tackle or sack as a Buccaneer.
Even if he was only kidding on social media.
"I think I'm a funny guy," he says. "I like to dance a lot. I'm always that guy that plays around probably a little bit too much, but that's just me. I've never been ultra serious."
That needs to change in the next two weeks.
Value Thrills
Once training camp begins, Mike Smith, Dirk Koetter and the Stick Carriers will be watching No. 90 very closely. They want to see hustle, technique and desire.
If the tape is good, Baker's tweets won't matter.
Koetter didn't talk much about Baker during OTAs or the mandatory mini-camp. Maybe Baker's name didn't come up in conversation — or maybe there wasn't anything positive to talk about.
The Bucs are counting on Baker to make an impact next to Gerald McCoy. He's a big body and the Bucs were soft against the run in 2016, allowing 4.4 yards per carry and 15 touchdowns.
"They're young and they're hungry," Baker says about Tampa Bay's emerging defense. "We're right on the edge of becoming a great team. I've never been able to play with this much talent on defense. Hopefully, I can help the team get to the next level."
No. 90 may not want to hear it, but nothing would thrill Jason Licht more at the end of the season than to use one particular word to describe Chris Baker.
Bargain.