Thursday Practice Notes & Observations
August 14th, 2014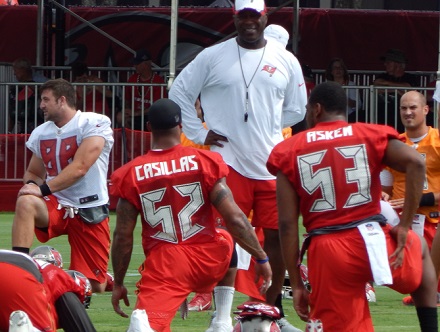 The final public training camp practice of the season was this afternoon at One Buc Palace. Lightning delayed things for a bit, but Joe stuck it out and sweating and soaking it all in for your reading pleasure.
Here are your highlights and lowlights:
*Your first team right guard is Patrick Omameh. Left guard is Oneil Cousins.
*Floppy hat duty for Mike Jenkins. Limited work for Alterraun Verner.
*Charles Sims is out nursing a tweaked ankle. He's got the walking boot on.
*Bucs are in "underwear football" mode. No pads today. Not with a game on Saturday night.
*Mike Glennon throws in between Mike James and Tommy Streeter. Ugly-looking miscommunication.
*Glennon has a pass tipped by the immortal Kip Edwards.
*Terrible Glennon overthrow to Mike James.
*Bucs are trying more screens than usual today. They're not fooling the defense and they look a little clunky.
*Juggled but not caught near interception by Michael Johnson of Josh McCown. A dumpoff pass to Louis Murphy.
*Leonard Johnson rips away a short McCown pass from Skye Dawson. Incomplete. Nice play.
*Lots of work on running plays today. Always odd to watch when there's no hitting. Jeff Demps gets to flash his speed. Center Evan Dietrich-Smith is always hustling.
*Fullback Jorvorskie Lane rolls for big gain over right tackle. #UnderwearFootball
*Tim Wright with a nice adjustment on a Mike Glennon pass in the air. Later Wright is busy with the first team.
*Seferian Jenkins gets deep behind the Bucs' zone defense and McCown hits him 30 yards in stride. Great zip on the pass.
*Biggest crowd road of the day. McCown to Vincent Jackson. Pass is complete after Rashaan Melvin nicely broke it up, but not enough to stop Jackson from finding away to haul it in. Nice concentration. Lovie Smith is sure to moan again that his defense had its hands on a ball but didn't force the takeaway. VJax does Deion pose last few yards.
*Doug Martin's hands let him down. Tough catch, but he missed a chance to impress on a 15 yard pass.
*There's ASJ again with a catch and run — and angry run.
*Deep go route, complete! McCown to V-Jax. 40 yards.
*INTERCEPTION! Johnthan Banks. Miscommunication between Mike Evans and McCown, who fired a strike to Banks. He'll never get an easier pick.
*Yo, Tim Wright: You can't run without the ball, son,
*Lightning warning siren sounds and ends practice.
Stick with Joe through the evening for so much more out of today's practice.