Jason Licht: Bucs "Were Impressed" With Incognito
August 28th, 2014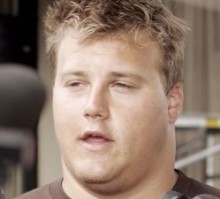 Embattled out of work NFL guard Richie Incognito appears to be very much on the minds of the Bucs front office.
General manager Jason Licht joined the WFLA-TV broadcast in the fourth quarter of tonight's game and shed the first real light on his and Lovie Smith's meeting with Incognito this week.
"We were impressed with Richie," Licht said. "He was remorseful for some of his actions. He seemed very contrite. We had a great meeting with him and, actually, we enjoyed it."
After tonight's shaky performance by new Bucs right guard Rishaw Johnson, Joe has to believe sleazy Incognito may be a step closer to a Tampa Bay contract.
As was pointed out many times on SiriusXM NFL Radio this week, if Incognito is signed after Week 1, then his 2014 contract would not be guaranteed.