Redskins 24, Buccaneers 10
August 28th, 2014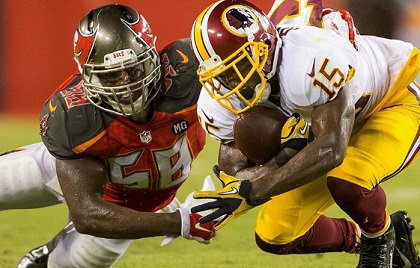 What's to say about this mess of a game? It might have been the worst preseason game Joe can remember.
Kudos to wide receiver/returner Solomon Patton for a nice catch and score from Mike Kafka, who Joe sure hopes never sees a real game.
A couple of picks by bottom-of-the-roster guys Nate Askew and Keith Lewis, and that's a your highlight reel. New guard Rishaw Johnson didn't show much at all.
Did Jeff Demps do enough to make the team? It sure didn't sound that way listening to general manager Jason Licht during the broadcast.
Stick with Joe for plenty more out of this game and the locker room.