Martin Dumps Domino's, Fried Chicken For Lovie
July 27th, 2014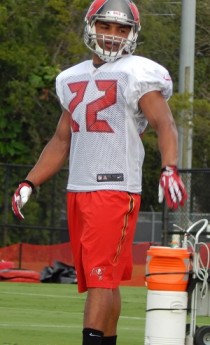 Joe confirmed today that "Muscle Hamster" Doug Martin is among the leaner Buccaneers.
Martin was always a workout warrior, a chiseled hamster of steel, but Lovie wanted every running back between 5 and 9 percent body fat when training camp begin. Martin explained that he just made it.
He said he was about 11 percent body fat previously and came in under the wire at "like 8.8" last week. It wasn't easy, he explained, having to dump beloved favorites "Domino's and fried chicken" in favor of "white meat" and "lettuce."
Martin wouldn't reveal what his actual weight is, but he sure looks smaller.
As for Martin's surgically repaired shoulder, he said it feels great. Today was Martin's first day in pads since his ugly torn labrum mess in Atlanta midway through last season. Martin was the first-team running back. There is no competition at this point.