Hawk Talks Hits, Brees & Cognac Cigars
June 17th, 2014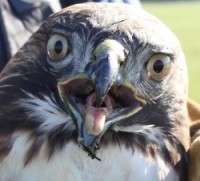 Often punished Bucs safety Dashon "Hawk" Goldson goes deep in this "Vice Sports" video that explores his views on entrepreneurialism, illegal hits, 1960s football, cognac-soaked-cigars, man-cave chatter and more.
Among other things, Hawk feels disrespected by an NFL icon.
That would be Drew Brees, who publicly called Goldson a dirty player.
Enjoy. And for those who think Hawk is oddly mellow for this interview, Joe can attest that his Hawk's non-gameday personality. He's just a relaxed, personable dude.