"Jason Licht, You Are On The Clock"
May 4th, 2014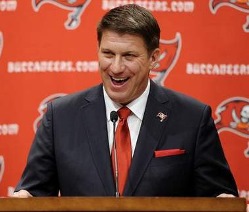 One reason why anticipation of the upcoming draft is both annoyingly long and fun, is that there is no telling what the Bucs will do just five days from the first round.
The Bucs could go quarterback at No. 7 (Johnny, please!) or wide receiver or offensive line or, hell, maybe defense only, because Bucs coach Lovie Smith is a defensive guy. As Joe has stated before, argument could be made for a dozen different guys to be drafted at No. 7.
This brings us to new Bucs general manager Jason Licht. Good guy Peter Schrager of FoxSports.com believes he has a hunch what Licht will do come Thursday and explains in this FoxSports.com video.