Derrick Brooks Talks Jameis Winston
May 6th, 2014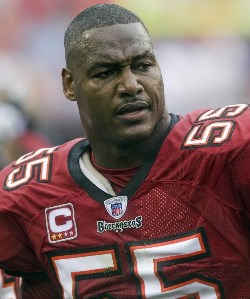 Yes, this is a Bucs blog. But Joe brings the following because it involves one of the greatest Bucs of all time, Mr. Derrick Brooks, and a guy more than a few Bucs fans drool over as a future quarterback, Florida State quarterback and Heisman Trophy winner Jameis Winston.
Joe cannot remember a quarterback in recent memory (sans Andrew Luck) who was this good, this accurate. Surely not a freshman. Joe remembers getting hell from Shaun King, one of three Bucs quarterbacks to lead the Bucs to an NFC championship game, when Joe Twittered last September that Winston was the best quarterback in the state of Florida wearing No. 5.
Yes, as a wet-behind-the-ears freshman in college, Winston was more impressive than sleepy, leaky Rip Van Freeman was as a fourth-year pro.
Anyway, we all know Brooks graduated from Florida State and was once on the school's board of trustees. When Brooks came to the Bucs, he kept strong ties at the school, partially because of Bobby Bowden. Joe remembers hearing from Jimbo Fisher that Brooks regularly went back to Tallahassee and spoke to players and handed out his cell phone number as if he were an insurance agent, telling the players if they needed any help or ever needed someone to talk to, don't hesitate to call him in Tampa.
Last year Joe remembers Brooks showing the locker room picture he and his son took with Winston after a Seminoles game. Brooks talked about how Winston was "humble," which for Brooks is high praise.
Then, it seems the world started caving in on Winston, with the sexual assault claims being the biggest news [that took place well before the football season]. Then last week, Winston was caught swiping crab legs from a Publix.
So yesterday, Joe asked Brooks if he has had contact with Winston to offer counseling, or if he knew what was happening to the freshman. Brooks had an interesting reply:
"There is a time and place for that," Brooks said of offering any counseling or guidance to Winston. "[FSU baseball coach] Mike Martin and Jimbo Fisher, they have a support system in place to help him. He's in uncharted territories. We have never had a Heisman Trophy winner this young in his career. The previous two quarterbacks, they were [seniors] leaving, Charlie [Ward] and Chris [Weinke]. Our seniors this year – it was a senior-oriented team. These youngsters have to learn how to handle success. We have not had this type of success in a long time. In the last two years, the guys that have handled it are leaving. So the young guys that are having [success] are learning how to deal with it.

"Yeah, we knew how to deal with it in the early to mid-90s because that was the expectation year-in and year-out. We knew how to carry ourselves. They have to learn how to handle success and that is the bottom line. It is bigger than Jameis. It's just not him because he is the Heisman Trophy winner. All of them have to learn how to deal with success and do it together.

"I am privy to what [FSU has] in store for them to do it and I like it. There is nothing wrong with falling and getting up. Let's not forget I went through some of the same things with a rule we never knew existed [Foot Locker incident]. And 12 years later I am on the trustee board.

"I will never make excuses for poor decisions. If Publix would have given him this food, he would have been in more trouble because he is getting a gift. Think about this. He would be in way more trouble than he currently is. That's the irony.

"I'm not going to make excuses for a bad decision. Let's leave it at one poor decision. There's a whole lifetime of better decisions this kid is going to make. I'm living testimony of that. We are human beings. Sometimes we lose sight of that."