Report: Bucs Looking Trade Up To No. 2
May 6th, 2014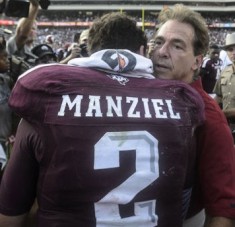 Johnny! Johnny! Johnny!
This evening, well connected Mike Florio, of ProFootballTalk.com and NBC Sports, is sharing word he's hearing around the league that the Bucs are looking to trade up to snatch the Rams' No. 2 overall pick in the NFL Draft.
Here's the link: Perhaps Florio is talking to the same people Peter King is?
Joe highly doubts the Bucs would be trading up to satisfy fans afflicted with the Sammy Watkins Fetish. There are too many quality receivers in this draft to be seduced so passionately by Watkins. Trading up, in Joe's opinion, means only one thing.