Lovie: McCown Is "The Starting Person"
March 12th, 2014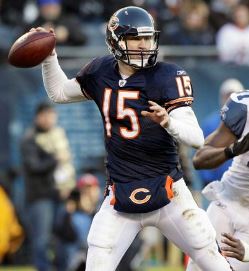 "There has to be a starting spot, a starting point, a starting person to go out there first, and that will be Josh [McCown]," Lovie Smith, speaking to JoeBucsFan.com this afternoon at One Buc Palace.
The context here was simple. Lovie was asked whether Josh McCown would be the starter, and Lovie danced a bit but rolled into a monologue about how there are "starting rotations" at every positions and gave the example that Gerald McCoy is the No. 1 guy at his position. And then Lovie gave his quote about McCown.
Joe talked to general manager Jason Licht who explained what a great leadership type McCown is, saying he's got a little Kurt Warner in him when it comes to leadership and his approach to the game. Licht said McCown's interview process was very much led by McCown at times. "He interviewed us," Licht said.
Among other things, Lovie made it clear that McCown is not close to retirement or thinking about his post-football future. Lovie even said the 34-year-old will prove mobile in Jeff Tedford's system.
"You'll get a chance to see. Josh McCown has a lot of spring in his legs. He's gonna play a lot of good football," said Lovie, who called McCown a "good mesh" for Tedford's offense. "I want to see what the guy can do when he has an entire season."
Joe feels bad for the Mike Glennon Mob. Tip your bartenders well tonight.