Quick Observations Of New Bucs
March 12th, 2014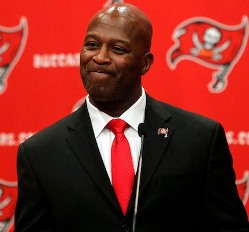 OK, the new Bucs players have not even snapped on a chin strap, have not taken a practice field, only stood and spoke before the Tampa Bay pen and mic club.
Here are some very quick observations Joe made from talking to a few of the new Pewter Pirates, Bucs general manager Jason Licht and Bucs coach Lovie Smith.
* Licht emphasized he really, really wanted Darrelle Revis to stay on the team. Really bad. But, Licht had to use his head, not his heart. He mentioned the very real possibility that one or three of the players introduced today would not be with the Bucs if the Bucs had kept Revis.
* Licht said Lovie's scheme did not factor into Revis' departure. In fact, Licht went into the offseason looking forward to building a defense around Revis as one of its three cornerstones. But negotiations were too tough and at one point, Licht said, he knew the negotiations were going nowhere and the Bucs had to move on. Licht wouldn't talk about when that point came.
* Licht said there was a salary figure he had in mind with Revis where he would have been comfortable keeping the Revis, but he would not reveal what that figure was, short of suggesting said target didn't seem approachable after several rounds of negotiations with Team Revis.
* Licht referred to Lovie Smith as the best sales pitchman and best salesman the Bucs have. The players Joe spoke with did not disagree.
* Joe will write about this later, but defensive end Michael Johnson is all about sacks. He spoke about it during the press conference and afterwards, his eyes gleamed when speaking about sacks. In fact, Johnson says he often watches tape of a former noted NFL sackmeister to try to pattern his game.
* Though Michael Johnson loves sacks more than Joe loves cold beers on a hot Florida Friday afternoon, he explained in great detail he is no one-trick pony. Stopping the run is equally important as rattling a quarterback's nerves.
* Johnson was with the Bengals when they went from the Bungles to an annual playoff team. He said he knows how hard the work is to turn around a franchise and he believes that experience and knowledge will be invaluable for the rest of his teammates that have never even sniffed a playoff game, short of buying a ticket.
* Alterraun Verner said one of the reasons he chose to play for the Bucs, aside from a paycheck, of course, was naturally, Lovie. But also, Verner thought the 4-12 record of the Bucs in 2013 was very misleading. He believes the Bucs are ripe for a quick turnaround and he wanted to be part of that.
As you should expect, much, much, much more from Joe to come on this important day in the franchise history.