Peter King Talks To Joe
February 27th, 2014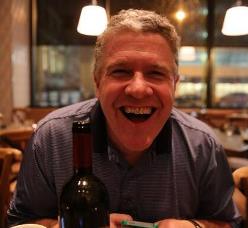 Yes, Joe was able to chase down the esteemed fight-instigating, barista-training, pedestrian-bumping, olive oil-lapping, popcorn-munching, coffee-slurping, fried-chicken-eating, oatmeal-loving, circle-jerking, beer-chugging, cricket-watching, scone-loathing, college football-naïve, baseball box score-reading Peter King of SI.com and theMMQB.com fame at the NFL Combine last week. But there is a cool background story to this short interview.
King is a very, very, very busy man. The guy is hounded at the combine by everybody. He can't go eight steps and not be stopped. Mind you, King is not in Indianapolis in the dead of winter to golf or play tennis. He's there to work, as well.
The concourse of Lucas Oil Stadium is where all the insider talk and mingling and smokeblowing occurs alongside radio row and TV film crews. The area is roped off, so roughly all of this happens between the 35-yard lines. The ropes are manned by two or three security guards and only NFL personnel and very few select media types (like King and Chris Mortensen) have access beyond the ropes.
When King agreed to talk to Joe, an SI.com staffer quickly interrupted because King had something to check on. King excused himself but promised Joe he would be right back. Joe offered to walk with King for the interview but King added, "Where I am going, they won't let you."
True to his promise, King returned after a short while and Joe met him at the ropes. King said, "I have to warn you. I have Johnny Manziel waiting for me for an interview and I may get hailed any second and when I do, I have to bug out. After not quite four minutes, a voice from afar where the concourse began to curve was heard, beckoning King and he flew. Joe looked down the concourse, and sure enough, there was Johnny Football waiting for King, which resulted in this article (and photo — Joe watched the photoshoot) and this video, both posted on theMMQB.com, where King is executive editor.
JoeBucsFan: Do you think Mike Glennon may be the answer for the Bucs?

Peter King: I think what they need to do right now is to figure out, look, if they come into the draft and they think — pick a guy; Jake Matthews, whoever it is — is the second or third guy on their board, and he's there when they pick, they have to pick him. My gut feeling is they are going to be a lot more interested in a Khalil Mack-type player or obviously [Jadeveon] Clowney. Because I just think they need to, even though they spent a lot of draft energy and capital in recent years on a pass rusher, they have to, absolutely I think, have to make sure they come out of this draft and/or free agency period knowing they can affect the quarterback more.

Joe: That is the only piece of the puzzle they are missing on defense, if you think about it.

King: Yeah, especially if Revis comes back this year as Darrelle Revis. What the Seattle Seahawks showed everybody last year is that pass defense and pass rush is a symphony. You have to have good guys at both ends. They certainly have good guys in the secondary. What worries me long term from up front is, although they drafted a lot up front in recent years, there is not a soul up front that I really think keeps offensive coordinators up at night.

Joe: Not even Gerald McCoy?

King: OH! I mean, yeah! But I don't consider him — he's not an edge rusher. Clearly, he is a difference-maker of the first degree. But they still need an edge guy.

Joe: What is your read on Bucs general manager Jason Licht? It appears he has a great reputation around the league.

King: He does. You know, I don't really know him well at all but I do know that people who have worked with him in the past, people at New England and Arizona, rave about him. They rave about his — I think one of the things you want in a personnel guy is somebody who is going to be able to say, 'I am listening to what you say and I respect what you say but I totally disagree with what you say.' In other words, I think you have to make sure that you trust a guy who is going to have the guts to disagree with you. Ron Wolfe always used to say about personnel, "I don't want a room full of yes-men. I want people who have opinions, whatever they are whether they are with me or against me." I think that is one of the things that Licht has done.