No Hall Of Fame Game For Bucs
February 27th, 2014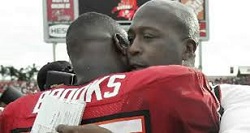 Joe's hopes have been dashed. The Bucs will not make their first appearance in the Hall of Fame game since the Tony Dungy era.
The annual kickoff to the NFL preseason will be played in Canton by the New York Giants and Buffalo Bills. A Tampa Tribune report weeks ago said the Bucs were a possibility for the game in 2014.
If nothing else, this means the Bucs will have a traditional preseason and training camp, one that will afford fans loads of opportunities to see the team practice in person.