Geeked About Working With Revis
January 6th, 2014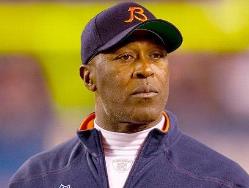 When the Bucs announced that Lovie Smith was their guy, the 10th coach in Bucs history, a number of NFL pundits and Bucs fans concluded — with bad math — that since Lovie runs a Tampa-2 defense, stud cornerback Darrelle Revis is SOL because he is not a zone-coverage guy but a press-man guy.
Lovie, who is pretty low key if not even-keeled, got noticably excited once in his introductory press conference tody at One Buc Palace. That was when the subject of Revis came up.
"As people know by watching us in Chicago, we didn't always run a Tampa-2 defense," Lovie beamed. Lovie went on to say he can't wait to work with Revis and to craft his defense utilizing Revis' strong skills.
Now Joe loved hearing that. Good coaches mold defenses around the talents of their players, not forcefeed a scheme.