Rod Marinelli Will Stay In Dallas
January 6th, 2014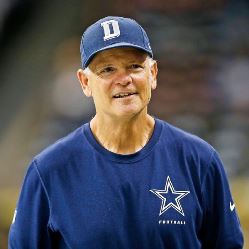 Hours after it was learned Lovie Smith was going to take over the Bucs in the wake of the firing of former commander Greg Schiano, an erroneous report by Adam Schefter claimed Lovie had hired former Bucs defensive line coach and current Dallas defensive assistant Rod Marinelli as his defensive coordinator.
Sadly, this report was at best premature and at worst, flat wrong.
Any chance of Marinelli coming to the Bucs in any capacity was shot down by Lovie today in his introductory press conference before the Tampa Bay pen and mic club.
"Rod Marinelli will be staying with the Cowboys," Lovie said.
Lovie did not go into detail about whether he tried to lure Marinelli back to Tampa or not likely, Joe is going to guess, because of potential tampering charges.
Lovie did state what close friends he and Marinelli are.