Lovie Glad To Be At "Home"
January 6th, 2014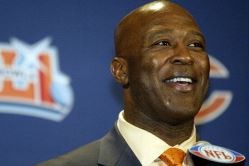 One reason Lovie Smith decided to accept the position as the 10th coach in Bucs history is because it's home.
Though a native of Texas, Smith made his bones as a NFL assistant with Father Dungy and the Bucs in the 1990s before he left for St. Louis to become the Bucs defensive coordinator.
Lovie said during his introductory press conference this afternoon, he is "home."
When Lovie moved to St. Louis in 2001, he kept his house in Tampa. Maybe with some astute foresight, that house will be getting used a lot more as Lovie said, he's "home" again.