Bucs Add A Star Cornerback
January 10th, 2014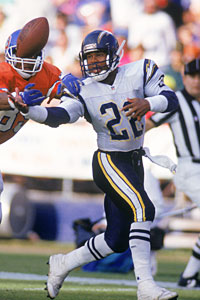 The man coaching Darrelle Revis this season will bring some serious street cred.
This evening the Bucs announced the hiring of Gill Byrd, who will coach Bucs cornerbacks.
He was a two-time Pro Bowler for the Chargers.
Byrd is a Lovie Smith guy. He spent seven seasons for the Bears under Lovie. His last job in Chicago was assistant defensive backs coach and safeties coach in 2012.  
A four-time All-Pro, Byrd, 52, played 10 seasons (1983-92) with the San Diego Chargers, retiring as the team's all-time leader in interceptions (42) a record he still holds.  
As Joe referenced earlier, Leslie Frazer's specialty is defensive backs and he, too, was a stud NFL cornerback. Joe's real eager to see what the Bucs defensive backfield looks like this season.