Greg Schiano Speaks
December 29th, 2013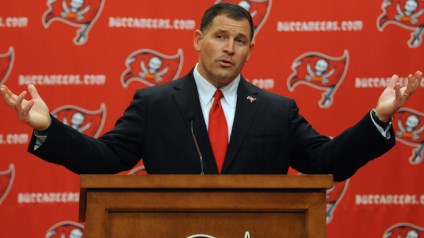 As one can expect, the mood of Bucs commander Greg Schiano was somber after the belt-whipping Drew Brees and the Saints dished out to the Bucs this afternoon in the Big Easy, ending a dreadful 2013 campaign.
Speaking on the Buccaneers Radio Network, Schiano was brief in his words but summed it up saying that when you face a future Hall of Fame quarterback like Drew Brees in his house, sometimes the results are just downright bad.
"It's very frustrating," Schiano said but the beatdown. "We have a bunch of guys in that [players'] locker room, that coaches' locker room, that worked very hard. We made some mistakes. We got outplayed and out-coached. It is disappointing for the players, for the fans. It's not for a lack of guys working their tails off. Sometimes, you hit a bad patch like this.

"We made too many mistakes against a very good player to be able to slow him down."
Joe can't get too angry about this loss. Who really didn't see this coming? The Saints at home are a team that plays at a different level than the Bucs, plain and simple.
Plus, the Saints needed a win to make the playoffs (remember those?). Who truly didn't expect the Saints and Brees to be playing with their A-game?