Schiano Watch Is On
December 29th, 2013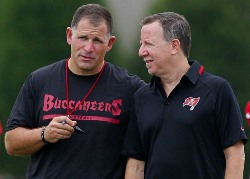 "We are committed to the plan that began 12 months ago with Coach Morris, and we look forward to building on the pieces that were put in place this season." — Joel Glazer, January 2010
That was the one sentence, official written proclamation after Raheem Morris was under fire following his opening season, when the Bucs' finished 3-13.
Team Glazer has yet to issue an endorsement of Greg Schiano's third season.
Why is Team Glazer waiting, when they know it's the question on the minds of every Bucs fan?
Perhaps Team Glazer wants to talk to Schiano first over bagels and orange juice in the morning? Or perhaps they'll gather Schiano tonight for an analysis of the season?
Schiano is due to address the media at One Buc Palace at 2:30 p.m. tomorrow. Joe assumes Team Glazer won't trot out Schiano and then fire him later, but there's no way to predict. Chucky was canned a couple of weeks after the Bucs' choked away a playoff berth following a 9-3 start.
If a decision has already been made to retain Schiano, then Joe suspects Team Glazer will be kind to the leader of the New Schiano Order and issue a statement tonight. There'd be no benefit for them to extend the "Fire Schiano" chatter that would fill every pore of the Tampa Bay media overnight and tomorrow morning.
Joe is watching and waiting.