Future Bright For Wright
December 29th, 2013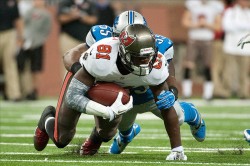 Joe's going to take a break from stomaching another brutal Bucs season to celebrate all things Tim Wright.
The Bucs' rookie tight end from — all together now — Rutgers rose from fourth on the opening-day depth chart at tight end to shock the NFL.
Wright's got a savage pair of mitts. He'll make the tough catches. He'll take a beating over the middle. He runs sound routes. He's a handful — big and quick — for linebackers. And Joe likes how he catches balls with his hands and presents a big target for quarterbacks.
With Mike Williams hurt and the likes of Skye Dawson, Chris Owusu and Tiquan Underwood playing No. 2 and slot receiver for the Bucs, Wright saw his share of double-teams the second half of this season.
That didn't slow him down.
Wright gained 15 pounds or so of muscle through the season and finished with 54 catches and five touchdowns. It was one of the best rookie tight end performances in NFL history. By comparison, Tony Gonzalez, who retired today, had 33 catches in his rookie season and 59 in the next. Jason Witten? He snagged 35 balls in his rookie campaign.
Wright will be here next season regardless of the head coach.
Joe also can say that Wright is a well spoken good guy, as well. Success didn't go to his head. He's the same guy Joe talked to in training camp who looked lost running occasionally with the first team in four-wide sets.
The Bucs landed a good one. Wright should be able to do a lot more damage with more talent around him.