Lavonte David On Decisive Play
September 8th, 2013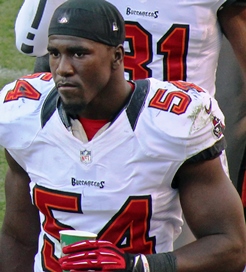 There are few players Joe likes more than Bucs linebacker Lavonte David. He will be in Pro Bowls. He will have a wonderful career in the NFL. But there is no way anyone can justify — or deny — his complete brain-dead play of a late hit on Jets quarterback Geno Smith that allowed the Jets to kick a game-winning field goal to open the 2013 season.
David, being the stand up guy he is, talked to Joe and maybe a dozen other reporters after the game about the play in question.
[Jets quarterback Geno Smith] just made a good play," David said. "Nah, they just called the flag, I guess they thought I hit him out of bounds."
David, who was in tears over the play and the outcome it forced, was nearly inconsolable on the sidelines but defensive line coach Bryan Cox and his teammates rushed to prop him up.
Players and coaches told David "'just keep your head up.' Guys around here are very supportive. That's what you need to be a great team. One play doesn't make you."
The Bucs were called for several personal fouls on defense for either late hits or what referees determined were hits on defenseless players, or hits to the head. David, maybe unaware the NFL has rules against such hits, noted this is the way the Bucs play.
"That's the way our defense is, play aggressive, just play physical," David said. "You are going to get called those calls. You may not feel like that's the right call but you can't do anything about it. That's the way it is. We are aggressive and that's what makes it great."
Yes, there are things you can do about it. Do what most teams in the NFL do. They adjust to the rules of the game, whether they like the rules or not.
Roger Goodell isn't going to order a stable of referees to call a different game just because the Bucs are playing.