"Everbody's Comfortable With Him"
July 22nd, 2013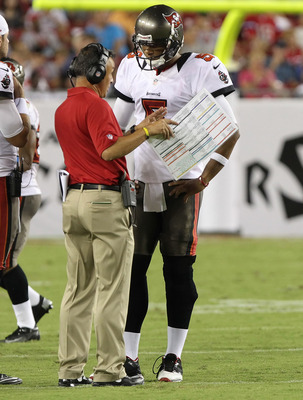 Warning: this video might be painful to longtime Bucs fans.
The link above takes you to a Warren Sapp and Willie McGinest NFL Network breakdown of training camp storylines. So what's the big deal? Well, it includes video of Bucs icon Monte Kiffin coaching in his new Cowboys gear and seemingly unable to get his 72-year-old bones to stand up straight. For Joe, there's something very wrong about seeing Kiffin in those colors with Rod Marinelli as his sidekick.
Also possibly troubling for Bucs fans is Sapp being very high on the Cowboys for 2013 — yet another NFC team one could consider a roadblock in the Bucs' quest for the playoffs.
Sapp also makes it very clear that the New Schiano Order is very pleased to trot out Josh Freeman as its starting quarterback. "Everbody's comfortable with him down in Tampa," Sapp said.
No. 99 also went on to say he's skeptical of the Bucs defense because he's "never seen a defense led by the back end, by the secondary."'
Joe gets Sapp's point. However, the Bucs hardly had a legendary pass rush last season, and Joe's quite confident the Bucs would have one at least two more games last season if Dashon Goldson and Darrelle Revis, aka Batman and Robin, were patrolling the back end.