Important Training Camp Note
July 22nd, 2013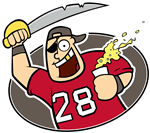 The glorious madness of Bucs training camp kicks off Wednesday when players report back to One Buc Palace and the Buccaneers will make loads of coaches and select players available to the media. Then on Thursday, practice begins and the floodgates of 2013 fun open up.
Joe's just taking second here to remind readers that Joe will be there for all of the madness.
Joe remains committed to delivering you everything and anything Joe finds interesting about the Bucs — from Joe's many interviews of players, to Greg Schiano's comments, to local and national views of the Bucs, and everything in between.
You see, Joe literally lives and breathes Bucs football 24/7. Joe does this so you don't have to.
Joe continues to be grateful to his readers — old and new — for driving JoeBucsFan.com to new heights. Traffic on these here pages is up about 30 percent over last summer — stunning, folks — and Joe is invigorated by the endless feedback from fans claiming Joe is their only go-to source for Bucs news and analysis.
Thanks. Joe assures you he is well rested and ready for the season.