Jeff Demps And The Bucs
July 22nd, 2013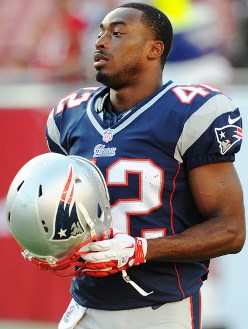 The Bucs have been desperate for a consistent, threatening kick return game ever since "Run Micheal run" Spurlock returned kickoffs for touchdowns for the pewter and red. Almost like during decades before Spurlock finally broke the barrier and returned a kick for a TD, the Bucs seem to be in dire straights at that position again.
In the past couple of years the Bucs have had a revolving door at kick return, enough to make a doorman dizzy, and to no avail.
Josh Katzowitz of CBSSports.com believes the Bucs may have found their answer in track star Jeff Demps.
Assuming he will run, that means Demps couldn't return to the Buccaneers until they're well into their training camp and preseason schedule. But Demps and his agent, Daniel Rose, reportedly believe the team has the understanding he will finish the professional track season before he returns to football.

"Jeff is the kind of guy who sees things through to the end," Rose told the paper. "And right now, he's running track. But we'll see what happens. He's in great shape. He works out five hours a day. He's being brought in for his speed, and we know he can run."

The Buccaneers, in fact, have wanted Demps since his Florida days. They were outbid by the Patriots in 2012, and they traded Blount to get him this offseason. The team probably would prefer to see Demps in camp when it opens, but reportedly, they're OK with this arrangement for now.
Demps is scheduled to run in the world track & field championships next month in Moscow, and then he may arrive to the New Schiano Order in late August.
Color Joe skeptical about Demps. First, track stars and NFL stars are two totally different elements. Just because one can run on a track doesn't mean he can be a good football player. Demps sure as hell won't be in football shape if he reports in mid-August.
Second, does anyone really believe Bucs coach Greg Schiano is a part-time football guy? Demps' focus clearly is track and the Olympics and that's great. Joe just doesn't see Schiano as the kind of guy that just welcomes a dude off the street halfway through the preseason and gives him a roster spot.
Look, if Demps was so talented as a return man, would Bill Belicheat throw in Demps in a trade just because the Bucs asked for his rights? Belicheat isn't a coach who allows people to be part-time players, except when they are suspended, or being tried for murder.
If Belicheat thought he could persuade Demps to be a football-first gjuy, he would have kept Demps' rights. Personally, Joe wishes the Bucs would focus more on getting the captain of the inactive list, Michael Smith, more reps at kick return than pinning their hopes on a guy whose focus is clearly not on the NFL.