When Stats Mislead
October 6th, 2012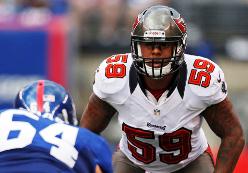 Joe learned long ago that anyone wishing to prove any point can concoct statistics to back it up. This is one reason Joe is wary of judging play by stats alone, and another reason Joe has grown weary of how baseball has been hijacked by the spreadsheet warriors (who often moonlight as Trekkies), some of whom will actually try to convince innocents that Karlos Pena is a productive hitter, if you can imagine.
Take an element by eye-RAH! Kaufman of The Tampa Tribune. In a recent notes column, Kaufman offered a nugget that touts the Bucs as having a stingy third-down defense.
The Bucs rank fourth in the league in third-down defense, limiting opponents to a 28 percent success rate which would set a franchise record.
Sounds cool, doesn't it? Well, let's start peeling the onion skins off of this one.
This stat would suggest the Bucs have one helluva defense. After all, isn't the moniker of every coach to "get off the field on third down?"
Yet when the Bucs needed that defense, it was nowhere to be found. In the fourth quarter of the ghastly loss to the Giants, Big Blue and Eli Manning converted two of the three third downs the Giants faced, including an 80-yard touchdown bomb to Victor Cruz.
Now in another loss, a gut-puncher to the Redskins where Robert Griffin III led the Redskins on a game-winning drive, the Redskins did not convert one third down in two chances in the fourth quarter (one of the third downs, Griffin completed a nine-yard pass, but not for a first down).
In looking at the play-by-play breakdown, the Redskins didn't often face a third down late in the game because they were converting first downs early in the series of downs.
And while the Bucs may be on a pace to set a franchise mark for third-down defense, does anyone really believe this Bucs defense is as good as the glory years with Warren Sapp, Simeon Rice, Derrick Brooks, John Lynch and a then-young Ronde Barber?
One could argue this year's Bucs defense, while much improved over last year, isn't yet on the same level as the defense that carried the Bucs to an NFL title game in 1979, led by Lee Roy Selmon and Batman Wood.
So when people throw out numbers, it's always better to break out a notepad and pen and actually go behind the numbers to get to the real story.
And that, friends, is the won-loss record.