Da'Quan Bowers And A Playoff Run
October 6th, 2012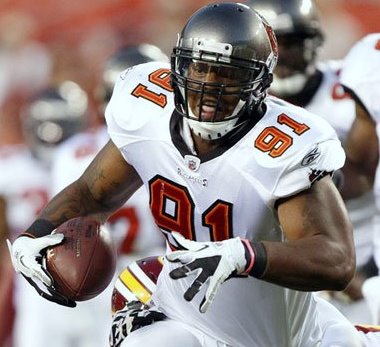 A lot of people point to the season-ending injury suffered by Davin Joseph to be a crippling setback to the Bucs' running game and it sure looks like that's the case. The right side of the Bucs' offensive line is a mess without him.
But another, sort of under-the-radar injury (under the radar meaning it happened in the offseason) was defensive end Da'Quan Bowers' Achilles tear. And with the loss of fellow defensive end Adrian Clayborn to a nasty knee injury, it just may have ripple effects.
What Joe is getting at is, Joe has a hunch the Bucs may try to rush back Bowers, who is eligible to come off the injured list in a matter of weeks, to try to help patch the hole left in Clayborn's absence.
Pat Yasinskas of ESPN briefly touched upon this issue in a recent NFC South chat.
Nathan (Orange County)

What's the latest on Bowers. Dominik expressed some optimism about his return this season but that was weeks ago.

Pat Yasinskas

Think there's still optimism. We'll find out soon.
If all things are equal, Joe would just wish Bowers would wait until next year. An Achilles injury is nasty and there's no reason to perhaps endanger a career for the sake of a handful of games.
Whether Bowers will be able to return is still very much up in the air, and Joe believes the next few weeks will determine Bowers' status.
Sure, the Bucs are 1-3 and a wild card berth appears a long shot, but crazier things have happened. If the Bucs go on a winning streak to enter the playoff race, Joe believes the chances of Bowers returning this season will increase.
If the Bucs continue to struggle and a playoff hope dims, the less likely Bowers will suit up this season.