LeGarrette Blount's Hands Are "A Plus"
June 15th, 2012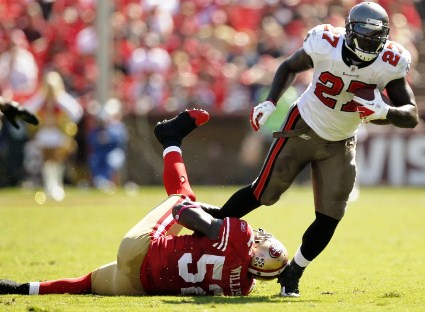 OK folks, buckle up. It's a steamy Friday afternoon and Joe is thirsty. This makes Joe cranky.
There's another thing that makes Joe irritable: That's Bucs offensive coaches last year slandering running back LeGarrette Blount.
Now Joe is funny about coaches. Joe's a big coaches kind of guy. Dates back to the respect and relationship Joe had with his old football coach, a guy that played for John Madden, Tom Landry, Gene Stallings and Lou Holtz (not bad, huh?).
To Joe, coaches are teachers. Good coaches dedicated to their craft, like teachers, will go above and beyond the call of duty to exhaust every possible way to help you improve. In some respects, it's called "responsibility."
Last year, Bucs offensive coaches leaked all sorts of awful things about Blount, some of which Joe does not deny were true, for example, not being punctual for meetings and perhaps not knowing the playbook as well as others (neither did Kellen Winslow, by the way).
One fallacy that was whispered about Blount was that he couldn't catch passes out of the backfield. Joe thought this was strange in that Joe saw Blount with his own eyes catch balls in training camp, and then there was a 29-yard reception against one of the NFL's top defenses, San Francisco.
Well, yesterday at One Buc Palace following the end of minicamp, new Bucs coach Greg Schiano slammed the door on this nonsense that Blount can't catch when asked about Blount's pass-catching ability.
"I thought he did a pretty good job," Schiano said of Blount catching balls in minicamp. "Just watching what I saw here and on tape, does he have good hands? I think his hands are fine. I don't know how that will translate into our game plan but he can catch the football and that is a plus."
Simply put, Blount was misused if not unused last year by a staff that didn't know how to use him, didn't know how to coach him up, and as a result leaked all sorts of foul things about him in a desperate, shameless attempt to save their own hides.
Consider, this is the offensive coaching staff that called for Blount, who averaged five yards a carry in 2010, to touch the ball five times in a season-opening loss to the Lions. FIVE!
Why, Blount was so terrible of a pass catcher, he caught two less passes (15) than Frank Gore of the 49ers (17). Strange, to Joe's knowledge, there was no angst from Jim Harbaugh's staff nor outrage from Niners fans that Gore seemingly can't catch the ball out of the backfield.
As for Blount being late to meetings or allegedly not knowing the playbook, Joe has a couple of stories from two of greatest coaches in American sport.
If anyone during this current downtime of the NFL calendar wants a good book to read, Joe suggests Season on the Brink, a riveting inside look at Bob Knight in his heyday coaching the Indiana Hoosiers.
Knight had a player named Steve Eyl, who in Knight's system was a good player in that he did so many little things right, and was a part-time starter for Knight's last NCAA championship in 1987 (led by lethal-shooting Steve Alford). But Eyl's Achilles was shooting. He was terrible.
Knight exhausted all measures in trying to get Eyl to shoot better. Not wanting to give up on Eyl, Knight would bring in friends of his, such as John Havlicek, to work with Eyl. When this produced limited results, Knight would bring in PGA Tour pros to work with Eyl as Knight believed a shooting stroke in basketball was no different than a golf swing.
Also, when Knight hired graduate assistant coaches, one of their responsibilities was to actually pick up and chauffeur players to practice. If a player was late, not only would the player pay, but so too would the grad assistants. It was their job to find a way, any way, to see to it the players were at practice on time.
Did Olson really go out of his way to try to help Blount? Joe has his doubts.
Then there is a story Joe heard Bill Parcells speak of. When he was a young college assistant, Parcells thought he was clear to a player about a specific assignment and when the player blew that assignment on the very first play, Parcells totally lost control and railed at the player when Parcell's head coach pulled him aside and told Parcells, "Well coach, you obviously weren't clear enough with the young man."
Did Olson do his best to help Blount learn every nuance of the playbook fully? Did he even go so far as to perhaps hire a tutor to help Blount learn the playbook, if indeed he did not know the plays?
Again, Joe has his doubts. If Olson was truly more concerned about winning than just giving orders, he would have taken a page out of Knight and Parcells' book of coaching and done his best to ensure Blount was on time and knew his playbook, therefore helping the team win, not just whine and shrug shoulders and point fingers.
Lastly — and no one has been able to give Joe a clear answer on this — if Blount was this much of an albatross to the team, then why the hell was he on the active roster? If he was on the active roster, then use him. If he didn't know the playbook, he shouldn't have been active.
Joe's looking forward to seeing what coaches who are motivated to help players can get out of Blount.