"He's Been On Me As Of Late A Lot"
June 15th, 2012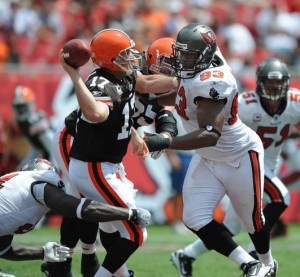 There will be plenty of external heat on Gerald McCoy from the opening whistle this season as he tries to live up to his draft-day status and whopping paycheck in his third year.
However, the inside-One-Buc pressure on McCoy already is on, so he told Jeff Darlington of The Man Channel, aka NFL Network. The video link is here. McCoy was asked to give his take on Bucs defensive front seven coach Bryan Cox and revealed that Cox is zeroing in.
"He's been on me as of late a lot about my pass rush," McCoy said. "Because he said I have all the tools necessary, just need to fine tune them."
Interestingly, in a Buccaneers.com video in recent days, one could see a scene of Greg Schiano talking to McCoy about hand-work becoming more instinctive, "Bing, bang, boom," Schiano said.
Joe, like every other Bucs fan and his coaches, is yearning to see McCoy open his tool box and start hammering away with his finely tuned instruments — week in and week out.